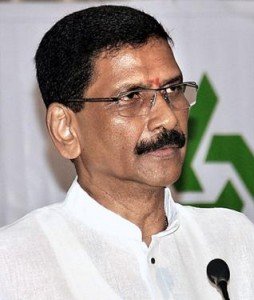 Amid rumoured certainty of the change of the guard in AP, the name of a leader, who has been seldom talked about, has taken dramatic precedence to all other familiar aspirants. He is none other than Marri Sashidhar Reddy. He has been away from all the feuds with in the congress, at least, after the demise of Y.S. Rajasekhara Reddy, whom he was opposed to.
Sashidar was one in the duo, who became popular with the pseudonym, 'Hyderabad Brothers'. His counterpart, P.Janardhana Reddy, was one of the tallest leaders in Twin Cities. The two, as die-hard detractors of YS,  left no stone unturned in attacking him during his first stint as the CM. It was believed the duo were acting at the behest of the Party High Command . As P.Janardhana Reddy, died of cardiac arrest, Sashidhar remained quiet. Luck seems to have turned his favour.
He is emerging as the consensus candidate, if at all the High Command replaces him with a leader from Telangna. Sashidhar not only hails geographically from Telanagana, he has the strong lineage of championing for Telangana state hood. It was his father, Marri Channa Reddy, who  rallied the people of Telangana and made a maiden political outfit for the cause but merged it with Congress at the end allegedly for the Chief Ministership.
Congress chief hopes Sashidhar could give a potential threat to Y.S.Jaganmohan Reddy  who is still unyielding and K.Chandra Sekhara Rao of TRS, who has come of the way nearer to her party. Sashidhar, however, receives stiff opposition from other aspirants.