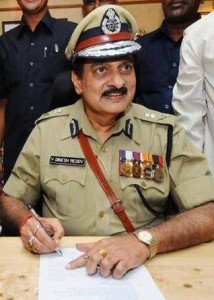 Dinesh Reddy, the DGP of AP is eyeing for the Director post in the CBI, it is reliably learnt. This is one of the most coveted posts, which every senior police officer in the nation dreams of. Unlike some of his predecessors, Dinesh as, the top cop of the state, is independently discharging his duties and has become an eye sore to his batch mates.
It is believed, he has developed good rapport with Chidambaram, the Union Home Minister in the recent years. He was showered with compliments from many leaders who were close to Sonia Gandhi, including Chidambaram for the key role Dinesh played in persuading the RTC employees union leaders to call off their strike as part of Telangana stir. He made use of his intimacy with union leaders in doing so, as he had worked as the Managing Director of the RTC for a couple of years.
After he assumed the office as the DGP, the Telangana agitation hasn't gone out of gear. Keeping these credentials in view, the Prime Minister's office is likely to consider his name for the Director post in CBI.
So far, it was Vijaya Rama Rao, the only cop from from AP got this post. Though Dora, another senior officer, desperately tried for this job, he could not. Whlie Vijaya rama rao didn't work as the DG, Dora held the post of AP's top cop for the record number of five years.
If Dinesh Reddy gets this post, he will be the second cop of the state to ever become the Director, CBI.