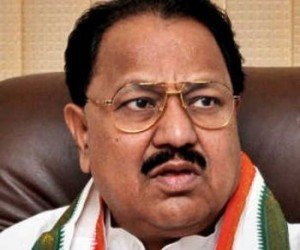 If the change of the guard in Andhra Pradesh is on cards, then who will replace Kiran Kumar Reddy? Rumours are abuzz that D.Srinivas, a staunch loyalist could be the possible guy.
Sources close to him reveal that he has had enough hints from the Congress party high command. They claim that the change is certain but predict this will take place only after the conclusion of impending by-polls for 18 Assembly segments and one Parliamentary Constituency in the state.
D.S is believed to have cautioned his followers not to discuss the 'offer' he got from the Party supreme. Much before the warring duo, .Kiran Kumar Reddy and Bothsa reached Delhi to settle their row, D.Srinivas had gone and met the high command, Sonia Gandhi and important members in her coterie.
D.Srinivas has been in the Chief ministerial race ever since Y.S.Rajasekhara Reddy was given the post in 2004. His chances became remote, as long as Y.S held the post. After his sudden demise, he was again disappointed twice as the Party chose Rosaiah and Kiran Kumar Reddy without considering his name.
This time, things have come in favour, the sources say. With the exodus –in- progress of Reddys from Congress Party to Jagan's Y.S.R Congress Party, the Party high command is roping in Kapus and other Backward Classes. As DS belongs to Munnuru Kapu, a prominent backward community from Telangana, he could be the most possible choice, the sources argue.