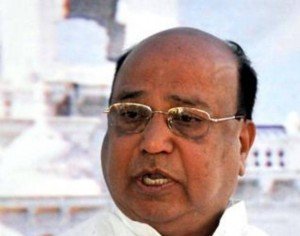 The name of YSR has drawn lines between loyalists and 'rebels' in the Congress Party. While those who are toeing Party's official line are making their accusing fingers against YSR along Jagan, those who have been side tracked, are confining their criticism only to Jagan.
For over a week, there has been a concerted attack against Late Y.S.Rajasekhara Reddy by the 'chosen' Congress leaders for the alleged 'quid-pro-quo' transactions that the CBI is probing into. In the first phase, Dalit leaders were carefully handpicked to make this tirade. Sailajanath was one among them. Later senior leaders from other strata too fell in line.
Now it is the turn of those who have been side-lined in the party to laud YSR. It's very interesting to find Shankara Rao, 'a controversial whistle blower', has made U-turn in not only praising YSR but also recognising Jagan's growing popularity.
It needs no emphasis that It had been he, who invoked criminal proceedings through the judiciary against Jagan. Now he finds Jagan is penetrating into the poor by addressing their problems. Shankara Rao expressed these views to media persons in an informal chat in the CLP office on Wednesday.
T.G.Venkatesh, whose voice in support of separate statehood was muffled by giving him a cabinet berth, is now vocal, in admiring Jagan for owning up Y.S.Rajasekhara Reddy for all the pro-people schemes.
But it is obvious that Congress Party here after, will find no difference between YSR and Jagan in making criticism. This seems to be the official line of the Party.